Fozzy are wrestling star Chris Jericho on vocals, Rich Ward and Billy Grey on guitar, Randy Drake on bass and Frank Fontsere on drums. They have gone from 'that band with the wrestling guy singing' to one of the most respected heavy rock bands around, and through each album release they just prove that more and more.
Their latest album release "Do You Wanna Start A War" was unleashed in July 2014 and the band are currently working on a new album.
We interviewed Billy Grey at their recent gig at the Islington O2 Academy in London, UK and you can read the interview below.
Further down you will see we've added some Fozzy videos. If you don't know too much about Fozzy yet, do yourself a favour and go and find out more, you won't regret it!!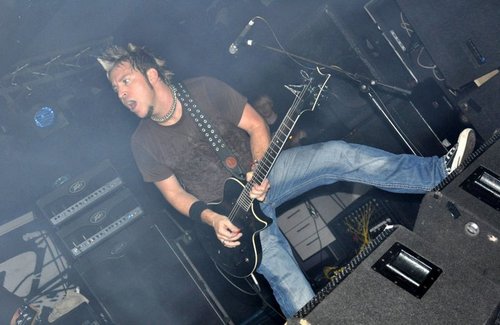 On 26th November 2015, Fozzy headlined the Islington O2 Academy in London, and we were lucky enough to catch up with Billy Grey for a few minutes before the show.
We asked him about the current tour and the new album. The full transcript is below.
We would like to thank Billy for his time and the interview.
M-Live Pro: Hi Billy, you're currently on tour with Nonpoint and Sumo Cyco, how's it all going?
Billy Grey: It's been great, we've been across Europe and came to the UK a few days ago and the fans have been awesome.
M-Live Pro: You played in Paris shortly after the attacks, how did that go?
Billy Grey: We all felt that we needed to play that show, nothing can defeat the cause of rock n' roll, the cause of having a good time and the power of music.
M-Live Pro: Your last album "Do You Wanna Start A War" has been out for a while now, and I understand you are working on a new album, how far along are you with that?
Billy Grey: Well, I think "Do You Wanna Start A War" is our most relevant album so far, and the new album will continue that.
M-Live Pro: Finally, if Chris had never been a wrestler, where do you think Fozzy would be now?
Billy Grey: (laughs) The sky's the limit, I'll leave that one to him!